As we head into the end of 2022, AIRmarket was featured across Alberta, over to Ottawa, and then 10,000 kilometres away in Saudi Arabia to showcase SKYLINK and introduce UTM for drones to multiple markets. Here's a recap of the events, audiences and results over the last three months.
AIRMarket Hosts Industry Partners Showcasing BVLOS and UTM Services
August 23-25, 2022
Over the course of three days, AIRmarket hosted both industry experts and Federal regulators to a series of BVLOS test flights. Transport Canada, NAV Canada, TELUS, TC Energy, and UAvionix were on hand in Edmonton, AB as AIRmarket completed a series of long range Beyond Visual Line of Sight (BVLOS) flights over 200 km, leveraging several key uAvionix technologies and the AIRmarket UTM framework. In 2021, uAvionix joined AIRmarket and partners TC Energy and TELUS to develop a Canadian UTM framework for long-range inspections of pipeline infrastructure.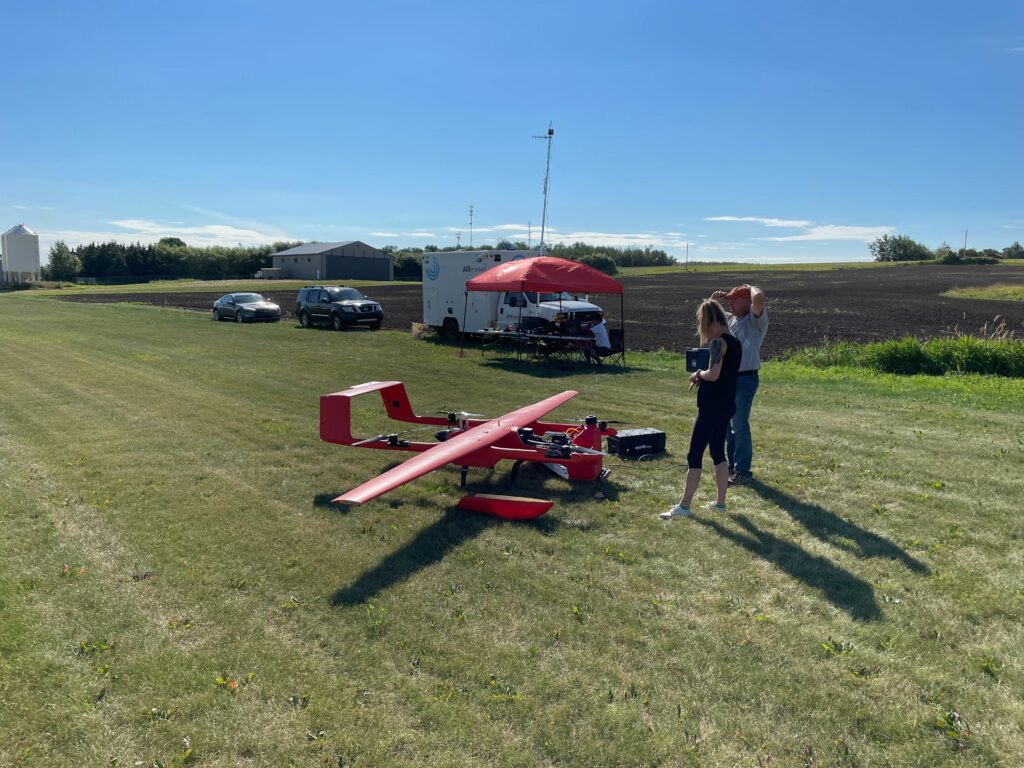 The trials, with extensive participation by representatives from Transport Canada and NAV Canada, included the uAvionix skyLine Command & Control (C2) system, enhanced with detect & avoid data from pingStation3. In upcoming flights and expansion of the scope, the TELUS LTE infrastructure will be enhanced with SKYLINK C-band protected spectrum radios for fully redundant long-range C2 capabilities. This allows flights to be managed simultaneously with LTE links through the skyLine system for optimal predictability and performance of the link for safety of flight.
Why is this important? Lindsay Mohr, CEO and Founder of AIRmarket says "The Canadian drone industry needed a repeatable and scalable C2 and conspicuity solution. We demonstrated to Transport Canada how we can safely integrate large long range drones in class G airspace, which will ultimately lead to commercialization of long range infrastructure inspections in Canada"
To watch a summary video, go here: EUT – Simulated BVLOS Flight and UTM Testing – August 19-24, 2022
RTMAC Meeting In Ottawa – UTM Leadership in Canada
Ottawa, September 13, 2022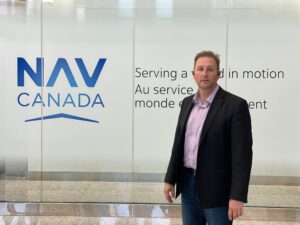 Lindsay Mohr travelled to Ottawa to attend the in-person meeting of the RPAS Traffic Management Action Committee (RTMAC). The purpose of this organization is to enable Transport Canada and NAV Canada to collaborate with the industry to help implement Unmanned Traffic Management services such as the SKYLINK UTM services that AIRmarket is developing with TELUS. In this meeting, NAV Canada discussed its strategy and disclosed their intent to work with industry partners such as AIRmarket. Lindsay is a founding member of this national working group.
AreaX.O – National Expo on Drone Technology: AIRmarket Providing Thought Leadership on Panel Discussion
Ottawa, ON Sept 20, 2022
This invitation-only event in Ottawa was hosted by AreaX.O in collaboration with Transport Canada and Innovation, Science and Economic Development Canada (ISED). A limited number of companies from across Canada were hand-picked to showcase their technology to Federal departments who are interested in utilizing their innovative services. AIRmarket was invited not only to present the SKYLINK UTM system, but as a guest presenter.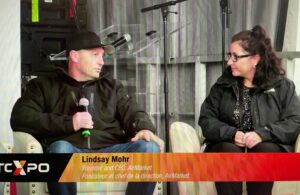 Lindsay Mohr participated in the panel discussion on "Propelling Drone Adoption", while Cale Griffith took care of conversations at the tent. AIRmarket invited TELUS to join them at the event, where they met with Canadian Federal aviation regulators to talk about the advancement of the AIRmarket system.
Satellite / Cellular Demonstration in
Kingdom of Saudi Arabia
September 27 2022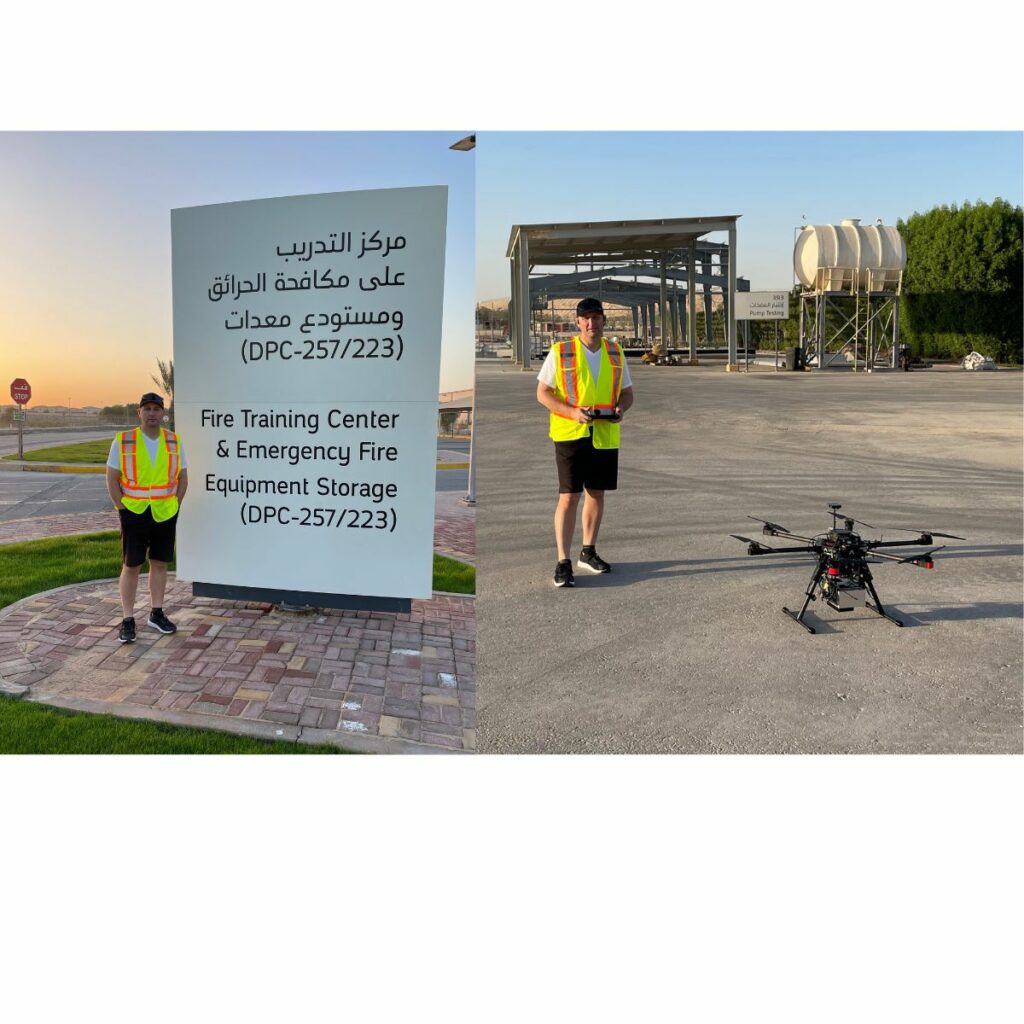 In conjunction with AIRmarket's partnership with Omnispace, Lindsay Mohr travelled to Saudi Arabia, to demonstrate the SKYLINK solution architecture. AIRmarket and Omnispace successfully conducted a trial to demonstrate how seamless global voice and data connectivity is possible, in real-time, around the globe. Together, the companies tested direct-to-device ubiquitous mobile voice and data communications using both mobile cellular and Omnispace's satellite non-terrestrial network (NTN) system.
Conducted at the Aramco, Dhahran Fire Training Center in the Kingdom of Saudi Arabia, the trial demonstrated the future Omnispace 5G non-terrestrial hybrid network architecture. The objective was to successfully connect a drone to both the Omnispace existing non-geostationary satellite orbit (NGSO) network and the Saudi Telecom Company (STC) cellular network. Airmarket installed an onboard computer providing the functionality to switch between cellular and satellite connectivity services. The hexacopter's connectivity, surveillance and monitoring was enabled by Airmarket's Skylink Service.
The drone was controlled remotely from Edmonton, Canada and flown in Dhahran using the simulated hybrid satellite and cellular mobile network. Watch the full video here: https://youtu.be/N7QmycGL4HA
AIRmarket Featured on Alberta Talk Show
Edmonton, October 11, 2022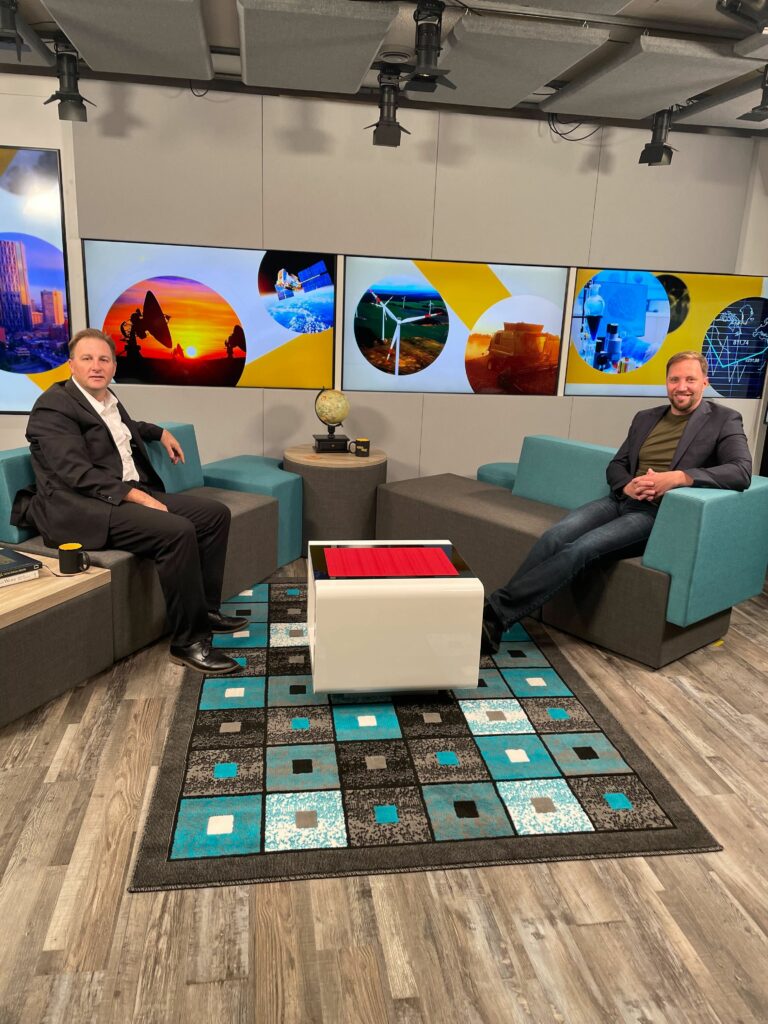 Lindsay Mohr (Left) was a guest on "Alberta Impact" a weekly talk-show with individuals and organizations that introduce Alberta-based technology to the world. Interviewed by Bryce Lambert, Lindsay talked about how our technology is managing drone airspace safely in order to provide Beyond Visual Line of Sight missions for aerial inspections that can deliver specialized business intelligence. To see the episode, go here:
Bryce Gets the exclusive on the new Edmonton Unlimited
TC Energy Innovation Experience
Calgary, AB Oct 13, 2022
This event was hosted by the TCE Enterprise Innovation team and the Business Unit Innovation Leads. The Innovation Experience is an internal event where AIRmarket was specifically chosen to attend, in order to showcase the innovative ideas and inventions of partners like AIRmarket who are considered Energy Problems Solvers that can inspire the TC Energy business units. TCE employees in the Calgary Office came by to meet Lindsay and the team to talk about the AIRmarket solution for BVLOS flight and aerial surveillance that utilizes the TELUS cellular system in the energy corridor.
AIRmarket's Collaboration With TC Energy:
Drivers for TC Energy:
Replacing Manned aircraft = a lower CO2e Footprint.

High quality of data with remote sensors = new and high-precision data streams.

Automating the inspection via remotely piloted and centrally managed inspection allows for long-distance inspection at scale.

Future real-time streaming allows for use of Artificial Intelligence models.

Lowers cost of maintaining the RoW as a result of precise and timely info on where issues arise.
AIRmarket's Solution for TC Energy:
Since Nov 2020, Partnered with NAV Canada and Transport Canada to conduct RPAS Traffic Management trials in commercial context for Canada's Energy sector.

Deployed UTM software, surveillance hardware, dedicated TELUS connectivity, BVLOS Aircraft and simulated BVLOS flight ops testing.

88 Flights over TC Energy Right of Way since March 2022.
AIRmarket Pitch at Launch Party 13
Edmonton, AB October 20, 2022
AIRmarket presented our solution at the thirteenth annual edition of Launch Party 13 Edmonton. This is Edmonton's flagship startup event, celebrating and showcasing Edmonton's tech-industry entrepreneurs. Lindsay Mohr, Cale Griffith, Braydon Borneman and Chang Park were there to share the AIRmarket story.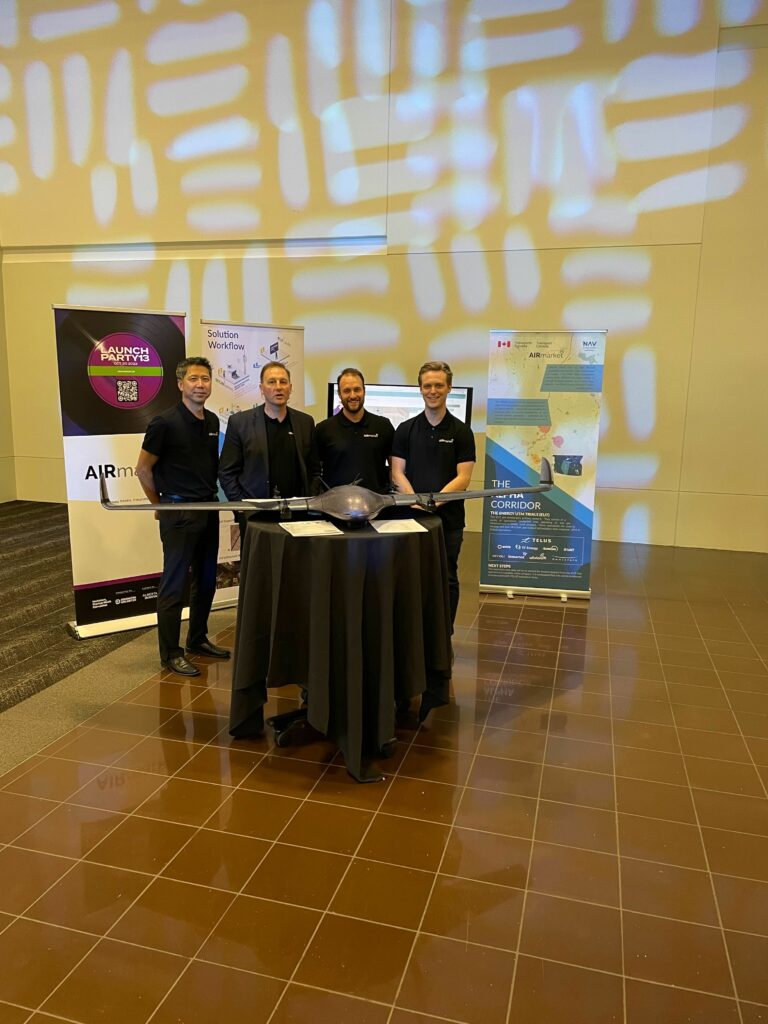 Pictured above (L-R) Chang Park, Lindsay Mohr, Cale Griffith, Brayden Borneman
Aerial Evolution Conference & Exhibition
Calgary, AB Nov. 2-4
AIRmarket once again was a key speaker and presenter at this national industry conference where drone operators and government officials gathered to discuss key industry concerns. Aerial Evolution Association of Canada is the national industry association representing entrepreneurs, businesses, students, academia, industry, and government organizations working in the aerial, remotely-piloted systems sector.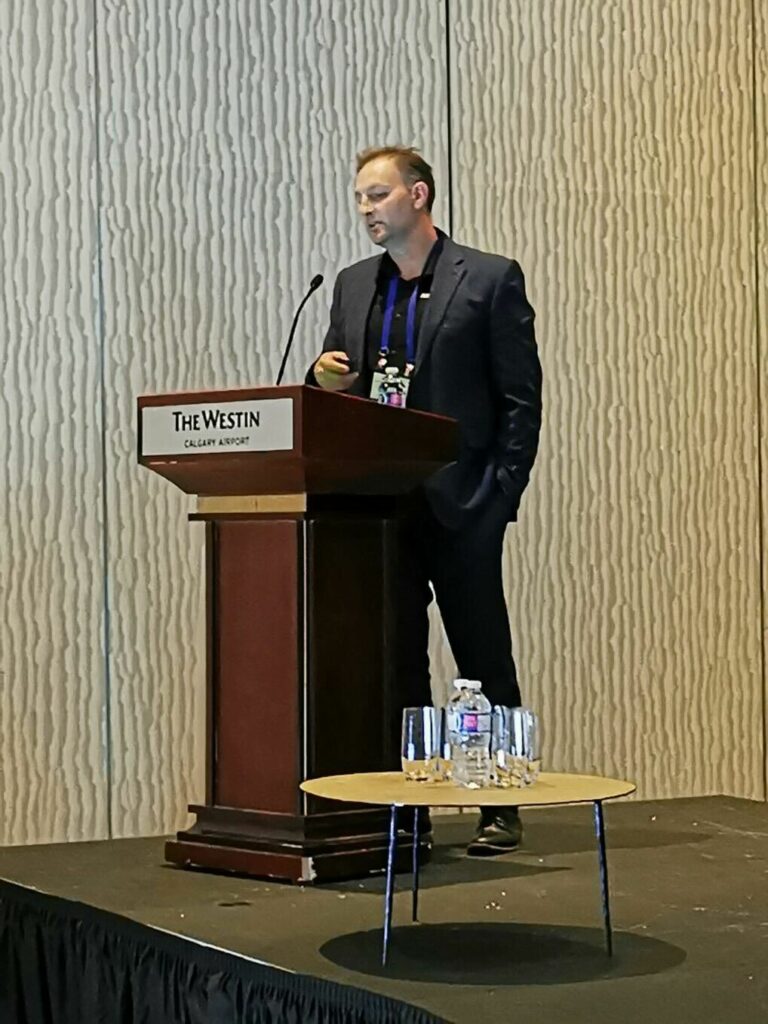 Lindsay Mohr presented the SKYLINK UTM solution to the sold-out crowd in Calgary.
We're proud of the work we've done in Canada and beyond – showing the SKYLINK technology and the talent of our team.