This week uAvionix and UTM partner AIRmarket completed a series of long range Beyond Visual Line of Sight (BVLOS) flights over 200km in Alberta Canada, leveraging several key uAvionix technologies and the AIRmarket UTM framework. In 2021, uAvionix joined AIRmarket and partners TC Energy and TELUS to develop a Canadian UTM framework for long-range inspections of pipeline infrastructure.

The trials, with extensive participation by representatives from Transport Canada and NAV Canada, included the uAvionix skyLine Command & Control (C2) system, enhanced with detect & avoid data from pingStation3. In upcoming flights and expansion of the scope the TELUS LTE infrastructure will be enhanced with SKYLINK C-band protected spectrum radios for fully redundant long-range C2 capabilities that can be managed simultaneously with LTE links through the skyLine system for optimal predictability and performance of the link for safety of flight.
For the Concept of Operations (CONOPS), AIRmarket equipped their ARTL03 platform with certified truFYX GPS and a ping200X ADS-B transponder for integration into mixed mode airspace ensuring visibility by participating crewed aircraft equipped with a Sentry ADS-B receiver. When operating in controlled airspace, TSO certified ping200X also enables Air Navigation Service Providers such as NAV Canada to visualize the ARTL03 when operating in controlled airspace. 
The flights and concept of operation highlighted the significant safety value of equipping crewed aircraft with ADS-B to aid detect & avoid (DAA) by uncrewed aircraft. A Luscombe chase-plane used in the long range flights was equipped with a uAvionix tailBeaconX Mode-S ADS-B transponder, ensuring full visibility of the manned aircraft via ADS-B IN on the drone and in the UTM system through pingStation3.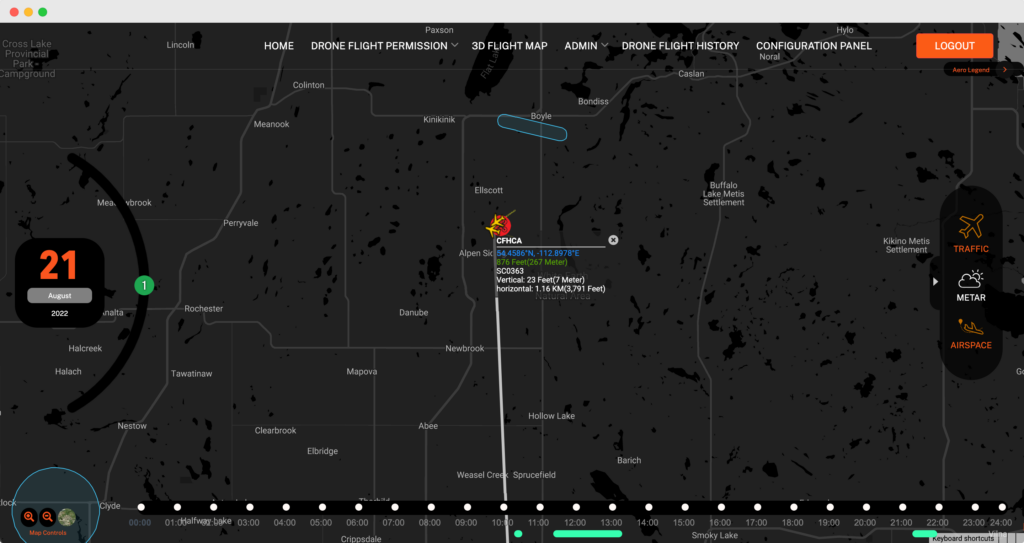 As part of the flights, a network remote-ID technology was used to further contribute to visualize all participating aircraft, by ingesting telemetry from the AIRmarket SKYLINK UTM system directly into a Traffic Information System Broadcast (TIS-B), established by uAvionix. Leveraging technology widely used by general aviation in the US, the TISB-B system in Alberta enhances the traditional FAA system using 978 MHz (UAT) to broadcast traffic and flight information by adding drone position data from the UTM system when they are relevant to crewed aircraft for added safety and situational awareness.
"The full uAvionix ecosystem of avionics for general aviation and UAS has been designed to drive safety enhancements and enable integration of crewed and uncrewed aircraft" said Christian Ramsey, President of uAvionix, "The concept of operations leveraging our combined technology is uniquely suited for large infrastructure customers such as TC Energy but is equally applicable to other commercial drone operations and will be a major catalyst for commercial drone operations in Canada"
"AIRmarket has relied on uAvionix for several critical aspects of these flights" said Lindsay Mohr, CEO of AIRmarket", "The Canadian drone industry needed a repeatable and scalable C2 and conspicuity solution. This week we demonstrated to Transport Canada how we can safely integrate large long range drones in class G airspace, which will ultimately lead to commercialization of long range infrastructure inspections in Canada"
The flights mimic similar concepts of operations used by uAvionix with multiple partners in the world, where reliable and monitored C2, electronic conspicuity and DAA sensor data have shown to be critical components in the safe integration of drones with crewed aviation.
For more information on uAvionix, go to uAvionix.